NARO MORU ROUTE
Day 1:
You drive north of the city through pineapple and coffee plantations and arrive on the slopes of Mount Kenya in time for a picnic lunch. From the Park Entrance Gate you walk to Met Station at 3,048m for dinner and overnight.
Day 2:
Your climb continues to Mackinder's camp, a walk of approximately 5 – 6 hours.
At this point the main peaks provide a spectacular view and there is also an opportunity to trek in Teleki valley form the camp. Overnight at Mackiner's camp.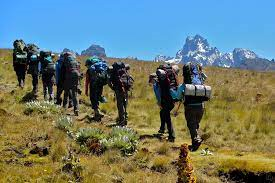 Day 3:
The ascension to the summit of pint Lenana begins before dawn to ensue time to view the sunrise form the peak. Form here, on a clear day, you can see Mount Kilimanjaro, Africa's highest mountain. The descent from the peak has a short break at Mackiners's camp before continuing to Met. Station for lunch and then onto the park Gate to meet your vehicle for your return to Nairobi.
.
6 DAYS CHOGORIA DOWN NARU MORU
Day 1:
You depart Nairobi at 9.00 a.m and driven north via Embu and Chogoria village to the Park Gates (3,017m). Overnight here in a private banda.
Day 2:
A steady ascent for 3-4 hours across open ground and through rain forest to your Camp at Lake Ellis (3,500m). Optional walk in the afternoon to Mugi Hill
Day 3:
You take a little used route across gentle Moorland with views of Vivine Falls before reaching your beautiful campsite beside Lake Michealson (4,000m)
Day 4:
An nearly start to reach point Lenana (4,985m) by mid – morning. Then traverse around the main peaks to American Camp – Superb views of the South face of the mountain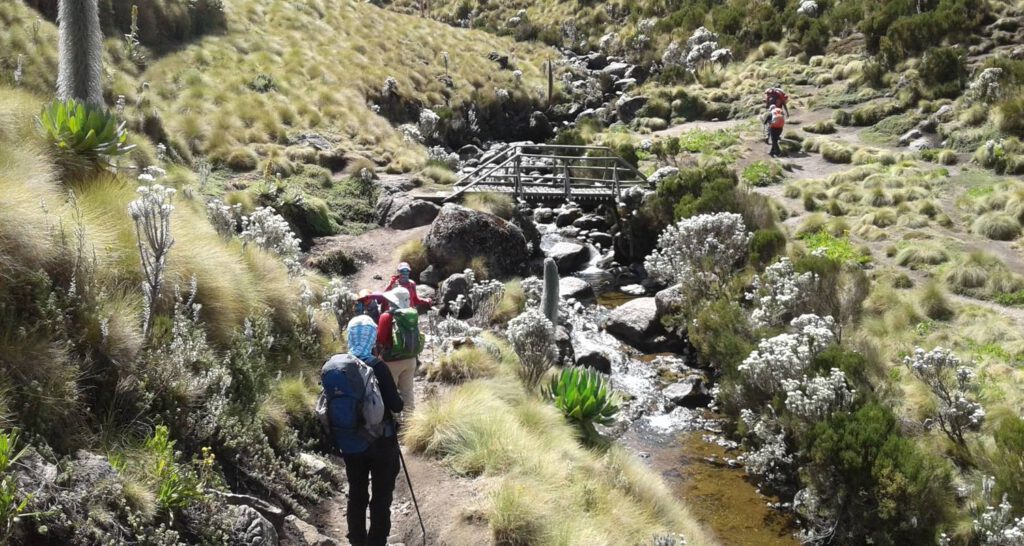 Day 5:
Final day on the mountain, descend through the Teleki Valley and the famous vertical bog to Met. Station (3,050m) and overnight at Naro Moru River Lodge Cottages
Day 6 :
Return to Nairobi arriving before lunch
---
KILIMANJARO CLIMBING
Day 1:
The first day's climbing is to Lemosho route (2,000m). to the park entrance, to which transport from the hotel is arranged, the climber enters the rain forest. It is a 4/5 hours walk to the first camp, through verdant scenery. The forest with bird life, and some Elephants on the way up and other Animals may be seen. Dinner and overnight at Mti Mkubwa camp.
Day 2:
The second day's trek to Shira One camp (3,000m) is about 7 miles and takes 4 and 5 hours. About half an hour after leaving Mti Mkubwa camp, the climber emerges from the rain forest on to alpine meadow. This is a very pretty day, with splendid views possible of the peaks and of the plains below the mountain. The vegetation is also quite spectacular, especially higher up, where giant lobelias and scenarios may be seen. Higher still, the vegetation becomes thinner, and the effects of altitude, commonly experienced as shortness of breath, may begin to be felt. Dinner and overnight as Shira One
Day 3:
The third day's trek to Shira camp (3,700m) is about 4 to 5 hours. This is an acclimatization day walk around to Shira plateau, return early evening for Dinner and overnight at Shira camp
Day 4:
This is an acclimatization day. You walk from the camp up to lava Tower at 4600m. And then descend down to Baranco camp at 3945. And overnight. It will take you between 5/6 hours
Day 5:
On the fourth day, the climb continues to Karranga valley camp (4,300m) which is at the foot of Kibo peak. Dinner and Overnight at Karranga valley.
Day 6:
On the sixth day, the Mountaineer rises at about 1 am. To attempt the summit. The rim of the crater of Shella Point recognized as the top is reached after a stiff climb up a very steep, loose screen slope. On average, this takes six hours then continue fkor 1.5 hours along the crater rim to attain the summit at Uhuru Peak (19,340m ft. 5,895m.) climbers return to MWEKA camp (3,000m) on the same day.
Day 7:
Then descend to Mweka Park Gate where transport will be waiting to bring you back to Moshi
.
---
Mt. KENYA CLIMBING
6 DAYS SIRIMON DOWN NARU-MORU
Day 1:
An early departure from Nairobi with a lunch stop enroute to the National Park Gates on the Sirimon Trail. Then a 3-4 hour steady ascent to Judmaier camp (3,350m)
Day 2:
A 5-6 hour walk up Mackinder's valley to Shipton's Caves (4,150m). it is a sramatic landscape with giant Lobelians all around and the towering peaks ahead.
Day 3:
Acclimatisation day. Optional trek to Kami Hut (4,425m) and Hausberg Col (4,591m)
Day 4:
A very early start up the North Ridge to reach pint Lenana (4,985m). descend to Teleki Valley on the opposite side of the main peaks to Mackiners Camp for a good night's rest.
Day 5:
Descend to Met. Station (roadhead) on the Naro Moru Track and transfer by vehicle to Naro Moru River Lodge for the night.
Day 6:
Transfer to Nairobi in the morning.