Railway Travel

Nairobi/Mombasa Train Booking
The train departs Nairobi every Mondays, Wednesdays, and Fridays at 1900 hrs and arrives mombasa at 1100 hrs the following day. The train will depart Mombasa on Tuesdays, Thursdays, and Fridays at 1900hrs to arrive Nairobi following day at 1100 hrs.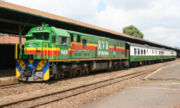 First Class :
It's a cabin for two people sharing. All meals in a cabin restaurant, bedding and fare included. Meals are dinner and breakfast.

Second Class :
It's a cabin for four people sharing. Meals, bedding and fare are included in the cost. The train has a well stocked bar and entertainments.